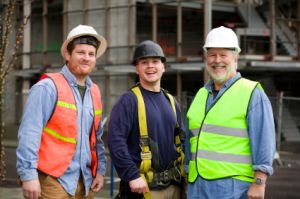 Workers' Compensation
Work related injuries pose unique situations that require therapists who specialize in treating injured workers, communicating with employers and other health professionals. We offer physical therapy services to injured workers to help them recover quickly and return to work safely.
To speed injured workers recovery we:
Offer same day or next day appointments
Identify accommodations to allow return to work during recovery periods
Use functional training and active exercises to heal injuries and prepare employees for return to work.
Our therapists offer several special services to ensure speedy returns to work and safe work performance including:
Functional Capacity Evaluations: comprehensive and job specific physical abilities tests to determine readiness for return to work, job strength capabilities and recommendations for further rehabilitation. Request for Functional Testing Form
Post Offer Screens: Job specific physical abilities testing to determine a potential employee's fitness to perform an identified job safely. Employers can expect reduced rates of injury and significant return on investment with pre-employment testing, especially in job classifications with heavy demands. Request for Functional Testing Form
Ergonomic Accommodation Studies: On site work place assessments to determine administrative and environmental accommodations which can allow workers with temporary or permanent restrictions to return to work and perform their jobs in a safe and efficient manner.
Ergonomic Job Analyses: On site assessments to quantify work demands of selected jobs. These services establish criteria for using post-offer screens, FCE's and Ergonomic Accommodation studies in determining return to work, employment, or job accommodations.
Contact us for more information or to schedule services: (440) 526-8566 eaube@rehabpros.net
Available at all locations